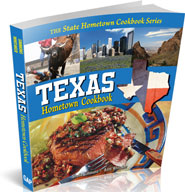 Texas Hometown Cookbook
Enjoy a Great-Big, Texas-Sized taste of the Lone Star States favorite Recipes.
You'll find easy-to-follow recipes for the Texas "Big Three"—barbecue, chili, and Tex-Mex— including Chili Cheese Empanadas, Chunky Texas Red Chili, Trail Riders Barbecue Coffee Pork Butt, and many more. Central Texas brings you the down-home flavor of Chicken Fried Steak with White Gravy and Cast-Iron Skillet Okra. From Blacked-Eye Pea Jambalaya to Fried Bananas with Cream Sauce, Texas Shrimp Boil to Mexican Wedding Cookies, you'll find delicious, hometown recipes to please everyone!